What is the safety and Security 3D Maps?
Safety and Security 3D Maps of the Historical City Kyoto are innovative multiple-risk maps that integrate various kinds of hazard and crime information in a web-3D-GIS environment.
This web-based 3D maps enable us to intuitively identify various potential risks in our neighborhood landscape/townscapes. Utilizing a variety of on-screen controls, the user is able to freely move above, about and along Kyoto's streets and its surrounding mountains, ascertaining statistical information on crime incidence and disaster risk, as well as the location of facilities such as evacuation centers, hospitals and police stations, and data about culturally and historically significant sites and landmarks.
We hope that the map will be a useful aid in community efforts to make the city a safer and more secure place to live.

Geographical Extent of the 3Dmap (click here)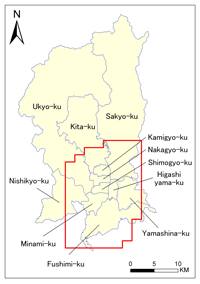 ---
Safety and Security 3D Maps of the Historical City Kyoto were developed by the Geographic Information Research Group based at the Institute of Disaster Mitigation of Urban Cultural Heritage. Developed as a platform to explore possibilities for information delivery on risk management using 3D GIS, the Maps do not deliver information on behalf of any governmental institution or corporation, and since.
Their hazard potential information does not include analysis of individual buildings or plots of land, they do not represent a detailed risk assessment of such sites.
Safety and Security 3D Maps of the Historical City Kyoto utilize information on disaster hazards and evacuation centers included in Kyoto multi-hazard maps issued by Kyoto City Fire Department in March 2005. Statistical information regarding past incidents of crime derives from data provided by the Kyoto Prefectural Police. The Kyoto police also publish their own Kyoto and surrounding cities regional safety maps, which include detailed information on incidents of crime.